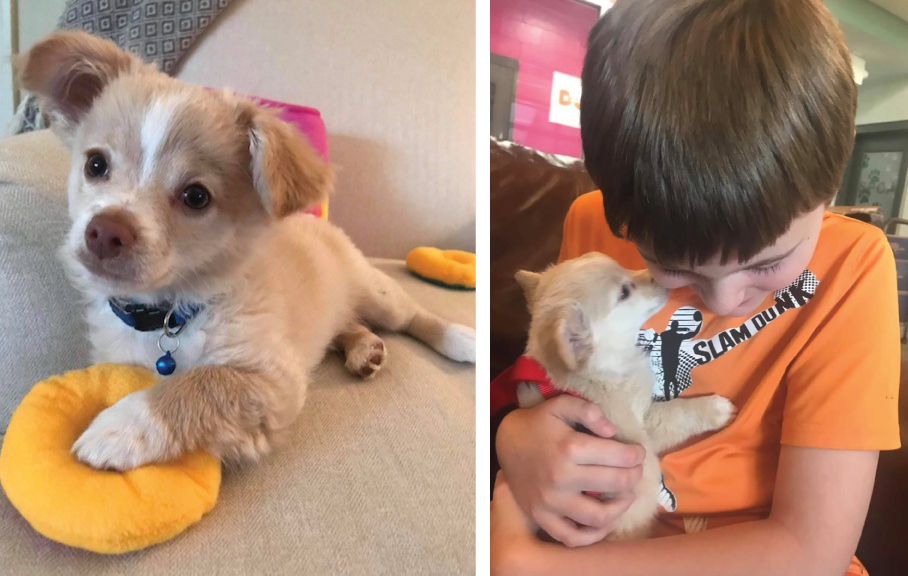 "Hi there! I just wanted to share with you some pictures of our puppy we adopted from you a few weeks ago! He was a Dunkin' Donuts featured dog of the week and we decided to name him "Duncan"! He happens to look almost exactly like our little 14-year-old Pomeranian that passed away on New Year's Eve. My 10-year-old loves him just as much! #Duncan is doing great and has such a sweet and fun personality! Thank you for all that you do!"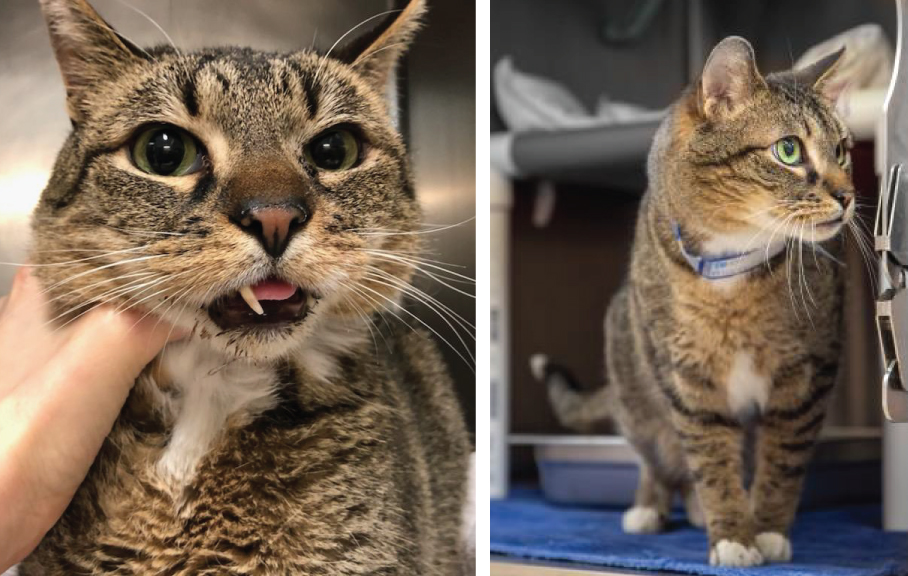 Bruce's former owner loved him very much but could no longer take care of his ever-growing health needs. He thought it would be best for Bruce to be surrendered to us so his life could be saved. Bruce came to the SPCA Cincinnati with severe dental disease. Not only did his gums bleed to the touch, he had multiple decaying teeth with one canine tooth that was so rotten, it turned sideways. Bruce's dental procedures were completed at the SPCA, with a total of 18 teeth pulled. Bruce's bravery and strength allowed him to recover successfully from surgery. Not long after his recovery, his loving personality warmed the hearts of a family and was taken into a new forever home! Click here to view a video of Bruce, he was featured in one of our Tails on the Trail 2021 Success Stories!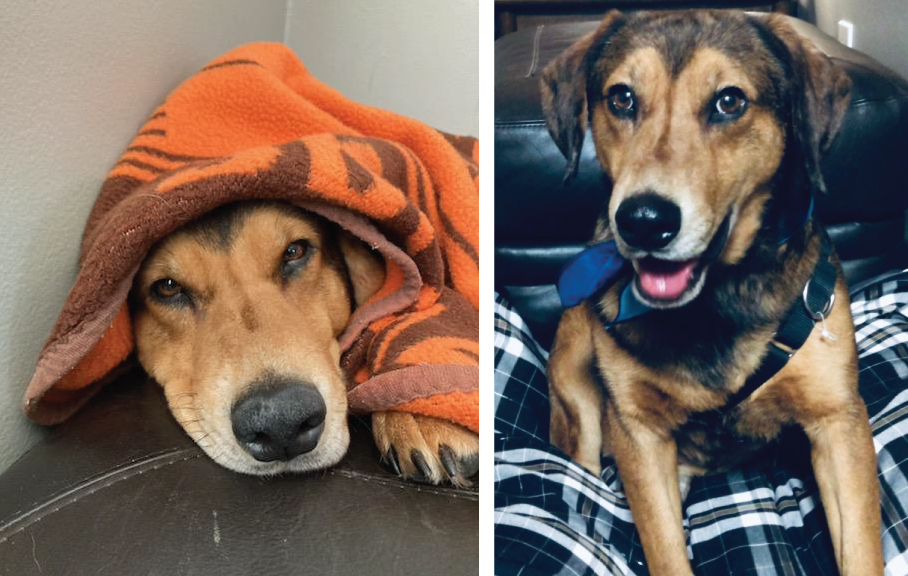 Sarge came to us in poor shape, a victim of a hoarding case. We weren't sure how to help him... He was starving, anemic, and full of worms. Sarge's stomach bothered him immensely and he had persistent, bloody diarrhea. Even after treating his worms and stomach issues, he still had problems with anemia and kept getting worse and worse. We worked frantically to find out what was wrong with this sweet pup. Finally, we discovered Sarge had a rare blood parasite. After further treatment, Sarge got better! Our SPCA Cincinnati Vet knew he was healthy enough to be adopted when she walked in the recovery room to find that he unlocked his dog-proof kennel and was lounging on the floor! Click here to view a video of Sarge, he was featured in one of our Tails on the Trail 2021 Success Stories!

An 8-week-old kitten named Izzy arrived at the SPCA Cincinnati with a litter mate. Both were near death and starved, weighing only one pound each... Sadly, Izzy's litter mate lost the battle and did not make it through the night. But Izzy proved to be quite the little fighter! She was anemic, had worms, and an upper respiratory infection. Her road to recovery was going to be challenging but this little fur ball was determined to win her battle. The SPCA Cincinnati Vet Team aggressively treated Izzy with medication and extra nursing. They noticed she was getting stronger when she would jump out of the cage and into their arms when they fed her. It wasn't long before Izzy was paired with a loving SPCA Foster Family to help her gain weight and prepare her for adoption. However, Izzy's Foster Family could not part with her, so they officially welcomed her into their home as a member of their family. Izzy is thriving and happy! Click here to view a video of Izzy, she was featured in one of our Tails on the Trail 2021 Success Stories!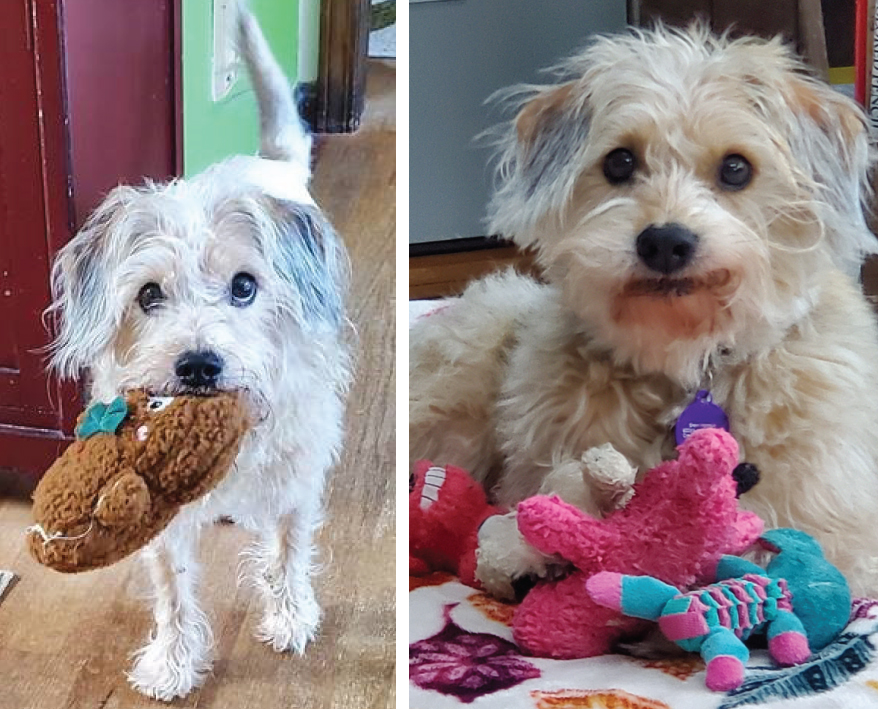 Chance came to the SPCA Cincinnati with matted fur, a few lumps, and a small limp but took it all in stride with his sunny disposition. He was immediately groomed and x-rays were taken by the SPCA Veterinarian Staff who found a few big surprises. Chance's happy exterior did not match the internal pain he accepted as normal. Along with painful bladder stones and a tumor on his hip, blood work confirmed Chance had bone cancer, which often carries a terrible prognosis. His bladder stones were removed to alleviate some pain but his limp got much worse. The tumor had fractured his hip, making his health prognosis much grimmer. A biopsy showed that the cancer was very slow-spreading and amputation was the best decision for improving Chance's quality of life. Happily, a loving Foster Family who had experience with special needs animals became Chance's Forever Family and he is doing exceptionally well today! Click here to view a video of Chance, he was featured in one of our Tails on the Trail 2021 Success Stories!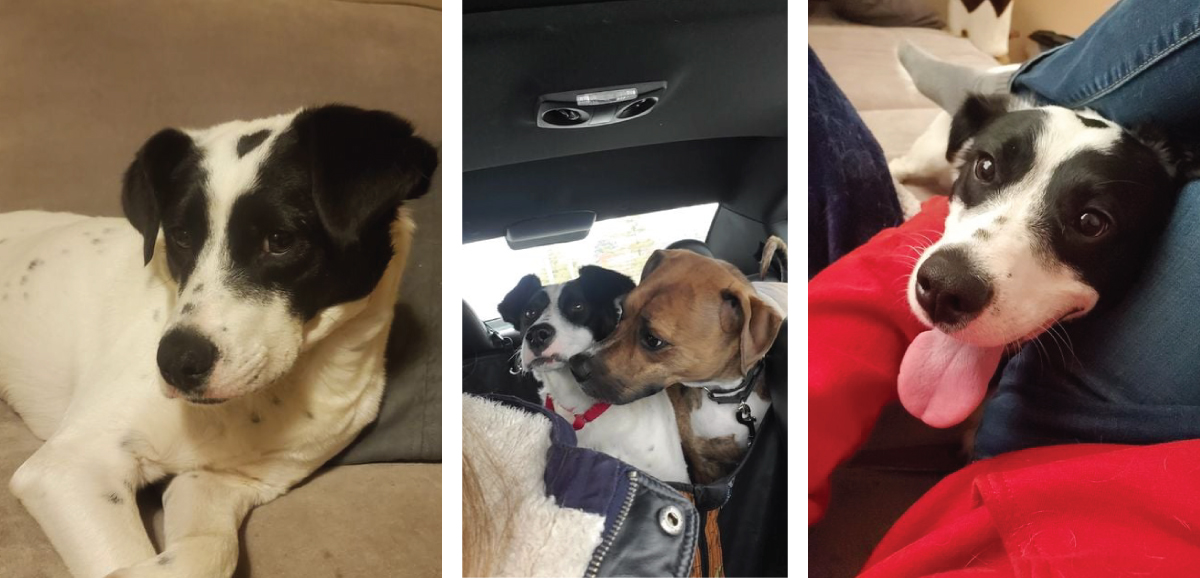 Anna, now Maggie – "Hello! I have an update on Maggie (formally known as Anna). Since adopting her back in November, she has been thriving! She completed her heartworm treatments thanks to your Veterinary staff. She absolutely loves her new brother Ralphie, along with any other dog she meets. She's the sweetest girl and I'm so thankful you allowed me to take her home."

Sugar, now Gunny – "We are so happy with our rescue! We rescued Gunny (formerly Sugar) the day after Thanksgiving 2019, so we have had him for a little over a year. He was a surprise for my husband who had been asking for a dog for several years... As you can see in his before-and-after picture, he is fat and happy now, and we love him. We've been very fortunate that he has not had any accidents in the house, and has been through training classes. He is a wonderful addition to our family. Thank you for all that you do."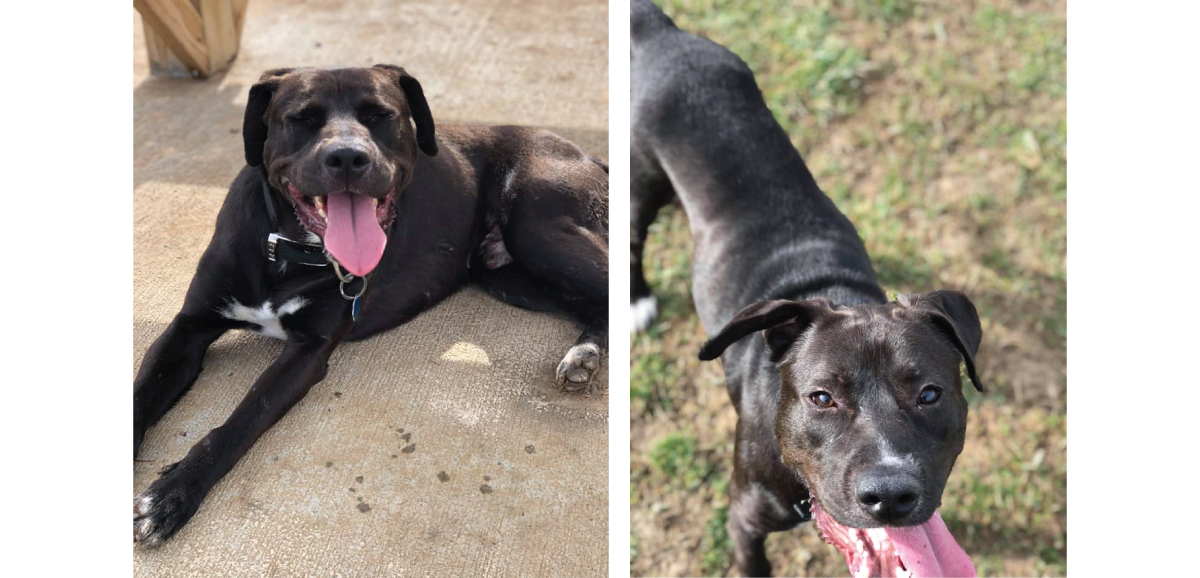 Morris – "Hi! I adopted Morris last Sunday, and I wanted to give you guys an update on him since he's been home! We cannot thank you enough for letting us take him home. He's been a wonderful man to our family! He's getting along with my cats and my kids! So, thank you again."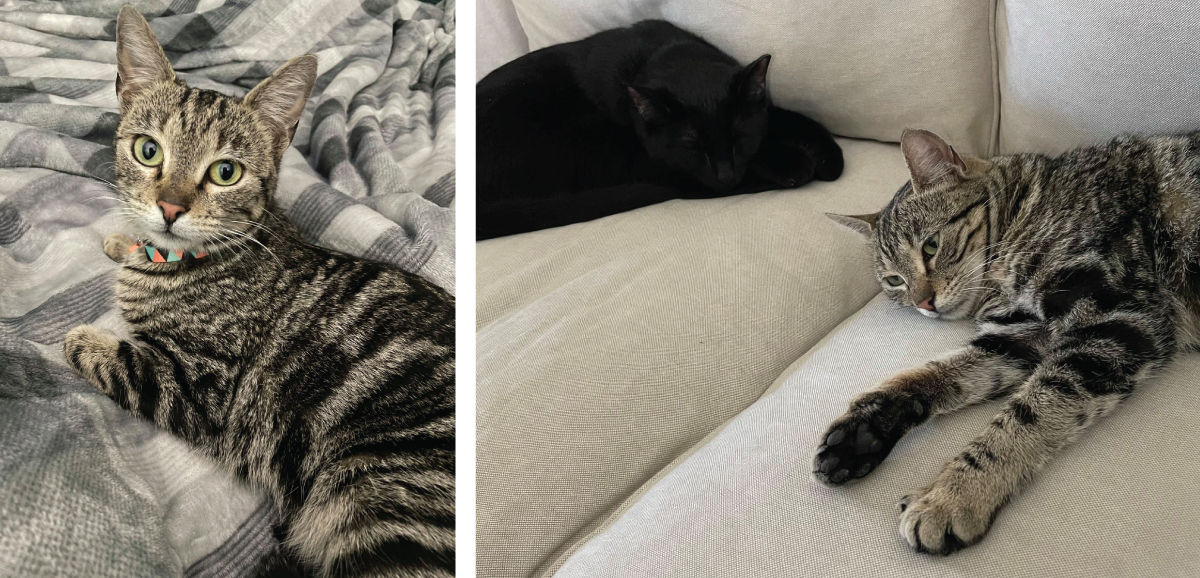 Deuteronomy, now Peanut – "I adopted "Deuteronomy" from your Sharonville shelter on Saturday, and I just wanted to give you an update. We renamed her Peanut and she is fitting in so well with our other cats! She loves snuggles and lap cuddles and she makes such a great addition to our family. She even tolerates all the affection from my 3-yr-old son. Thank you so much!"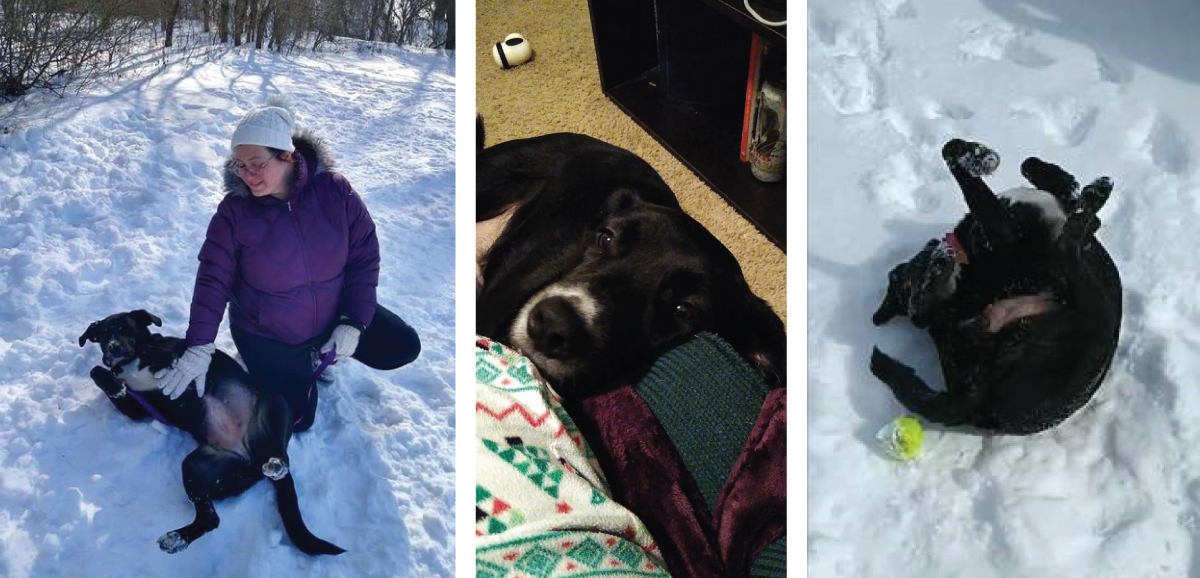 Trico, now Shelby – "Hi! I adopted Trico, now Shelby, [about] four weeks ago. Thought you might enjoy an update. She is a wonderful dog. She's become pretty good on the leash and loves her daily walks. She is a big ham and loves all the tummy rubs. She is very much a family member now!"